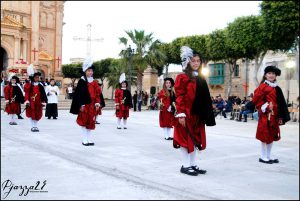 EASTER in Gozo is always a special time of the year; the time when faith & traditions meet.
Gozo is offering a rich experience of old activities that have survived for generations up generations.
Event peak during the Holy Week is de real life re- enactments of the passion of Christ.On Easter Sunday , you will find in most of the village the sorrow-full band marches and festive processions with large statues of the Risen Christ.
Easter is the time of great cultural importance , as it s a mix of religious rituals with community celebrations and traditions .
This makes Easter in Gozo so special and every visitor of the beautiful island of Gozo can experience this intense event , together with the religious locals.
Easter processions in the village of Qala are on the 12/04, 14/04 , 18/04, 19/04 and 20/04.